More than 1,900 'IDEA$' sent in by UC Davis faculty and staff
Goal for number of ideas met, now task force converts ideas into recommendations to campus leaders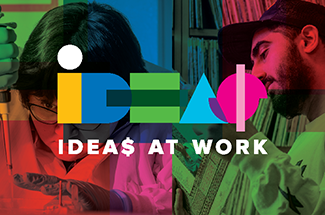 UC Davis faculty and staff members have submitted more than 1,900 suggestions for potential savings or revenue generation through the IDEA$ at Work campaign – after 1,000 additional ideas were sent in via the Academic and Staff Satisfaction Survey.
The new total far surpasses the original goal of 1,000 ideas, so a $6,000 donation will be split three ways between the ASUCD Pantry and the Staff Emergency Funds at UC Davis and UC Davis Health. 
Who is working on the 'IDEA$' now
The Revenue Generation and Institutional Savings Task Force has been working to review all submitted ideas with the intent of identifying $50 million in ongoing savings and net revenue that will help the university's solve its core funds deficit and better support the campus core mission in three to seven years.
As promised, all ideas were evaluated by the task force using criteria to assess ideas based on potential for revenue or cost savings and alignment with the UC Davis mission. Task force members have also sought input from subject matter experts on ideas that are somewhat vague or require additional information.
If your idea ends up not being selected for broad campuswide use, it will be shared with specific leaders within colleges, schools or departments for further consideration at a local level. Many ideas that were focused on process improvements will also be shared with the UC Davis Lean Community of Practice, as opportunities for future projects to facilitate improving campus processes.
By July, the task force will issue recommendations to Provost and Executive Vice Chancellor Mary Croughan. Information about the process and recommendations will also be published on the task force webpage.
Campaign touched all corners of UC Davis
Ideas came in from all of the university's divisions, colleges and schools, with more than half focused on savings opportunities. The campaign also previously shared a look at 50 early ideas, including suggestions for a bike fleet, electronic diploma system and on-call nurse pool.
The task force also offers special thanks to Mondavi Center for the Performing Arts, the Preferred Partnership Program, UC Davis Athletics and UC Davis Stores for contributing prizes for IDEA$ at Work.
All prizes have been awarded to employee prize winners:
Trish Berger

Jie Peng

Joseph Lestanguet

Austin Pile

Alexis Logan

Rachel Sanders

Bridget Mabunga

Brenda Scalzi

Maja Makagon

Jim Seibert

Jane McCluskey

Fernanda Valdovinos

Dolores Mejia

Stacy Lynn Wilson-Rivera

Joshua Morejohn

Rena Zieve
Though the evaluation process for this round of IDEA$ is well under way, additional ideas continue to be welcome through the IDEA$ at Work webpage, where submissions will be reviewed on a periodic basis.
Primary Category
Tags